Ben-Hur: 50th Anniversary Ultimate Collector's Edition (Warner) is the latest Oscar-winning epic to the Blu-ray treatment in a newly-remastered HD edition. Yes, it is a big, lumbering epic that can barely support its own weight, but then it has the square shoulder of the even squarer Charlton Heston to hold it up. And he does, with stiff masculinity and simmering, strutting pride, as the Jewish nobleman enslaved by the Romans (and specifically by his boyhood chum, Stephen Boyd).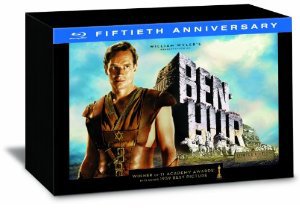 Soberly show-offy and humorless, this super-production is a triumph of craft over art, spectacle over drama, and William Wyler is the perfect craftsman for the job. The roaring sea battle and the show stopping chariot race — two of the most spectacular scenes of epic action ever mounted on Hollywood — were helmed by unheralded second-unit superstar Andrew Marton and legendary stunt coordinator Yakima Canutt. They look as good as ever, even in the age of CGI, because digital still hasn't quite matched the presence of physical action. Jack Hawkins, Sam Jaffe, Frank Thring, Haya Harareet, Hugh Griffith, Martha Scott, and Cathy O'Donnell co-star. It won 11 Academy Awards, including Best Picture, Best Director (William Wyler ), Best Actor (Charlton Heston), and Best Supporting Actor (Hugh Griffith).
The film, restored from the original 65mm camera negative (complete with Overture and Entr'acte music) and presented in the MGM Camera 65 aspect ratio of 2.6:1 (the widest ever used theatrically), is spread across two discs on Blu-ray and features commentary by film historian T. Gene Hatcher with scene specific comments from Charlton Heston (Hatcher fills in the dead spots left by Heston when he recorded the track years before) and a music-only track showcasing Miklos Rozsa's Oscar winning score.
Continue  reading at Videodrone, which includes an exclusive behind-the-scenes clip about the chariot race