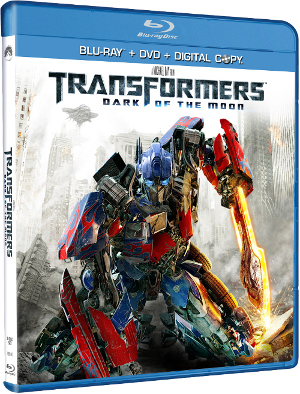 "Transformers: Dark of the Moon (Paramount), Michael Bay's third rock 'em sock 'em giant robot spectacular, was shot and designed for 3D, a format that forced the director to slow his chaotic editing down and create a coherent action canvas. While the DVD and Blu-ray are standard format, they too benefit from the restraint: you can actually see the transformations unfold and the action play out. It's just the story that makes no sense.
What passes for a screenplay involves the discovery of Sentinel Prime, the former leader of the Autobots, on the dark side of the moon, and the Decipticon plot to enslave humanity to rebuild their homeworld. At least, that's the part that doesn't concern once and future hero Sam Witwicky (Shia LaBeouf) trying to land a job. Seriously, the kid who save saved the world — twice — and essentially signed the greatest living weapons in the universe to an exclusive partnership with the American military can't land a job, merely a supremely hot and utterly vacant new model girlfriend (Victoria's Secret model Rosie Huntington-Whiteley in her acting debut, though there's less action than posing and walking around seductively in runway fashions and underwear) and an absurdly luxurious Washington D.C. loft. What, no one in the Defense Department will give the guy a letter of recommendation?
Anyway, after an ingenious hook of an opening scene, Bay and screenwriter Ehren Kruger pile on caricatures (John Turturro as the obsessive Agent Simmons, John Malkovich as eccentric software genius Bruce Brazos) and comedy scenes (special credit to Alan Tudyk, who vamps tired bits with madcap commitment and wild intensity) until Sentinel Prime is revived with the voice of Leonard Nimoy (complete with gratuitous "Star Trek" gag) and the evil Decipticon scheme is revealed. Then the film revs up for an hour of non-stop combat. Because when you get down to it, this is a movie about giant alien robots who go to war in Chicago and destroy half the city along the way. Who needs a story?