Kristin Wiig, one of the only reasons to check in with "Saturday Night Live" in recent years, has been turning bit parts into defining comedy moment in films as "Ghost Town" and "Adventureland," not to mention a half dozen Judd Apatow comedies. Now Wiig takes charge as co-writer and star of "Bridesmaids," a boys night out comedy for women that defied all industry expectations, becoming a smash hit and the most successful comedy to date for producer Apatow. It's also a necessary reminder that, Hollywood's obsession with making films for adolescent males aside, effective comedy cuts across gender lines. Especially when you throw in a little bathroom humor. "Bridesmaids" hits DVD, Blu-ray and Digital Download this week and Videodrone checked in with the multi-talented Ms. Wiig to talk movies, DVDs, Jon Hamm and doing nasty things in bridal shops.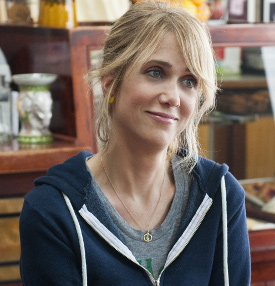 MSN: I just listened to the "Bridesmaids" commentary track, with you, director Paul Feig, co-writer Annie Mumolo and most of your fellow bridesmaids.
Kristen Wiig: Uh-oh.
It sounds like you guys had a lot of fun.
Wiig: We did. I'm actually nervous because I haven't heard it yet. Did I say anything to embarrass myself?
Let's just say that you didn't say anything that was more embarrassing than anything you said in the movie.
Wiig: There! Okay, that's fair.
You recorded that commentary track the day before the film opened, when you had no idea that it was going to be huge.
Wiig: Yeah, that's crazy. I was probably very, very nervous. It's probably why we were drinking wine.
If the commentary track is anything to go by, it sounds like you all had quite a time on the set as well.
Wiig: We did. It was like summer camp for three months. It was so fun and the cast made it so special. We just got lucky. All the girls all fell in love with each other and, yeah, those are my girls.