"The Greatest Film Ever Made" gets a worthy Blu-ray debut – and Videodrone has an exclusive clip from the set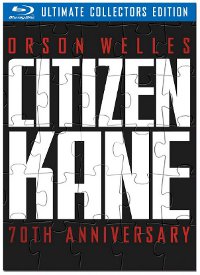 Citizen Kane: 70th Anniversary Ultimate Collector's Edition (Warner)
Citizen Kane has been so longed hailed as "the greatest film ever made" (the American Film Institute's poll apparently made it official) that it's in serious danger of becoming the least seen masterpiece around. The legends surrounding the film and its creator (and let's face it, Pauline Kael was simply wrong: this is Welles' creation) have too long overshadowed the actual production.
Above all, Welles was a showman and Citizen Kane is a three ring circus of cinematic ingenuity, a startlingly entertaining blend of pulp melodrama, historical biography, detective story, political drama, storytelling confabulation, and plain old theatrical flourish. Years ahead of its time in its layered use of sound and score (a pioneering piece of dramatic composition by Bernard Herrmann), stunningly designed and brilliantly shot by Gregg Toland with a creative invention that pushed the envelope of motion picture photography, Citizen Kane is a vital, exciting moment of American cinema brought back to life with every viewing.
That puts a lot of pressure on Warner to get it right on their Blu-ray debut. I'm pleased to note that they do with Citizen Kane: 70th Anniversary Ultimate Collector's Edition (Warner). The original negative was lost in a fire years ago but a fine-grain print survives and was been the source of this newly remastered edition. The transfer so sharp and clear and detailed it actually shows us too much information in some scenes. The cinematic sleight of hand is revealed in the projection room scene (where Joseph Cotten and Erskine Sanford, who are supposed to be shrouded in shadow, are plainly seen as "anonymous reporters" in the background) and the stunning dissolve from the still photo of the Chronicle staff coming to life at a party. These scenes were made for the chemical technology of 1940s, not the capabilities of 21st century high definition digital restoration, but such perfectionism is the kind of criticism this disc can handle: every single scene is a marvel of crisp clarity.