Videodrone's take on the biggest, best, coolest and culty-ist home video releases of the week
This week on home video, superheroes take on the Cold War of the sixties in "X-Men: First Class,"  Brian De Palma's modern gangster classic "Scarface" debuts on Blu-ray and over a dozen TV shows from last season — from "Fringe" to "The Good Wife" to Steve Carell's farewell season of "The Office" — roll out on DVD just before the new Fall Season launches. Ready to play catch-up?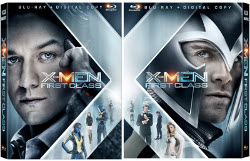 New Releases:
"X-Men: First Class" (Fox) is both reboot and prequel to the "X-Men" movie franchise. Call it a preboot, with James McAvoy as a flirtatious, precocious Professor X and Michael Fassbender as a dark, vengeful "Magneto" in the groovy atmosphere of the cold war 1960s. Videodrone's review is here.
Saoirse Ronan is "Hanna" (Universal), a girl raised to be a survivor and a warrior, the better to take on the agency that "created" her, in the adolescent assassin thriller from the otherwise literarily inclined director Joe Wright. Will Ferrell puts aside his buffoon persona for a more everyman role in the tragicomic "Everything Must Go" (Lionsgate), a small but lovely film adapted from a Raymond Carver short story.
On the import front comes a couple of Asian action films — the Hong Kong gangster drama "Triad Underworld" (Palisades Tartan) and Malaysian historical spectacle "Clash of Empires" (Image) — plus Amos Gitai's "Carmel" (Kino Lorber) from Israel and "The Colors of the Mountains" (Film Movement) from Colombia.
Browse the complete New Release Rack here

TV on DVD:
"Fringe: The Complete Third Season" (Warner) shows that the series simply gets better as the story bounces between two dimensions and actors go through the looking glass to play in an alternate reality.  Videodrone crosses over here.
You can revisit most of the best from NBC's Thursday night comedy block with releases of "The Office: Season Seven" (Universal), "Parks and Recreation: Season Three" (Universal) and "Community: The Complete Second Season" (Sony), covered on Videodrone here.
"The Good Wife: The Second Season" (Paramount) earned nine Emmy nominations, including "Outstanding Drama Series" and six acting nods (reviewed here) and "Police Story: Season One" (Shout! Factory) is the classic TV release of the week (reviewed here).
Plus the orphaned "No Ordinary Family: The Complete First Season" (Lionsgate) and "Criminal Minds: Suspect Behavior – Season One" (Paramount) and the continuing "Criminal Minds: The Sixth Season" (Paramount) and "Two and a Half Men: The Complete Eighth Season" (Warner), aka "the last hurrah of Charlie Sheen."
Flip through the TV on DVD Channel Guide here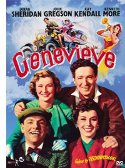 Cool, Classic and Cult:
"Genevieve" (VCI) is a beloved 1953 British comedy about a pair of competitive buddies who resort of dirty tricks and practical jokes when they race their classic cars to London. Fredric March is "Christopher Columbus" (VCI) in the 1949 British drama.
And, catching with a couple of last week's releases that arrived too late for review, "The Complete Jean Vigo" (Criterion) celebrates the poet laureate of French cinema (reviewed here), and there a new edition of Jean Cocteau's 1949 "Orpheus" (Criterion).
All of the Cool, Classic and Cult here
Blu-ray Debuts: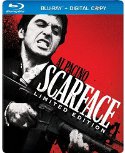 Say hello to my little Blu-ray! "Scarface: Limited Edition" (Universal) delivers the Blu-ray debut of Brian De Palma's urban gangster classic, with Al Pacino as the Cuban thug who shoots his way to the top of the Miami drug trade, in a special edition with a documentary and a limited edition SteelBook case. And for the high rollers, a deluxe edition with a handcrafted humidor (a steal at a mere $1000 retail). Videodrone's review is here.
You can make it a De Palma double feature with "Dressed to Kill" (MGM), his signature thriller and one of his best films ever. Videodrone's review is here. Sam Peckinpah's "Straw Dogs" (MGM), one of Sam Peckinpah's most uncompromising portraits of the human animal under pressure, arrives in advance of the new remake, and "United 93" (Universal) is here for the anniversary of 9/11. All this and "Blood Simple" (Fox), the feature debut of the Coen Bros., too.
Peruse all the new Blu-rays here
For Coming Attractions and more reviews, visit Videodrone, MSN's DVD, Blu-ray and home viewing column.