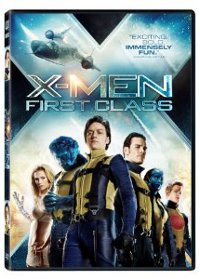 Note: The DVD and Blu-ray editions are due for release on Friday, September 9.
How did screens, both large and small, become so swamped with superheroes? One major reason is the success of the "X-Men" films. Where Spider-Man and Batman were familiar popular culture icons, The X-Men were huge comic book franchises (with multiple titles and spin-offs, not to mention animated shows and merchandising) but far less known to the average moviegoer. The first two features changed all that and proved that a major film franchise could be built on a strong superhero story without universal characters recognition.
Now reboot is the chant all over the Hollywood and in some ways you could say that "X-Men: First Class" (Fox) is a series reboot, but it turns to a prequel to introduce new, younger models of the series elders Charles "Professor X" Xavier (James McAvoy as a flirtatious, precocious incarnation of Patrick Stewart's more professorial figure) and Erik "Magneto" Lehnsherr (Michael Fassbender, bringing a dark anger to the part created by Ian McKellan). Call it a pre-boot.
Though it opens in World War II, the story proper unfolds in the early sixties. Future enemies Charles and Erik are initially friends and colleagues, bonded by a dedication to protect others of their kind as they build the first incarnation of the mutant superteam to take on a Nazi war criminal turned supervillain (Kevin Bacon as the arrogant Sebastian Shaw) with a plot to take the world. Bwa-ha-ha-ha! Okay, it's not really that cheesy and its sixties setting and sleek retro-designs gives it the zing of an early Bond film. I'd like to say that the casting of "Mad Men"'s January Jones as the icy Emma Frost adds to the atmosphere but she does little more than model fetish gear and strike dramatic poses with all the humor and engagement of a mannequin.
Rose Byrne is better as the FBI agent who scouts out Xavier (who uses genetic observations as pick-up lines) and tries to protect the team from a nervous government sweating out cold war tensions heated up by Sebastian Shaw's political interference and Jennifer Lawrence (Oscar nominee for "Winter's Bone" and Katniss in the upcoming "The Hunger Games") superb as the young blue-skinned shape-changer Mystique, trying to reconcile her identity crisis with Xavier's sometimes oblivious idealism.
Continue reading on Videodrone.
For more DVD and Blu-ray releases, peruse The New Release Rack and check out the Hot Tips and Top Picks for September 6