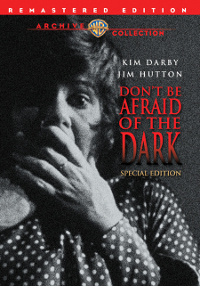 It's standard practice on home video to cash in on whatever chips the studio has in the vault whenever the opportunity comes, especially when it comes to sequels and remakes. But with the drop in DVD sales (and the subsequent loss of shelf space in the major retailers) over the past couple of years, more of the vault titles are being sidelined into the less costly (for the studios) manufacture-on-deman​d release streams.
So, with Guillermo del Toro's "Don't Be Afraid of the Dark" hitting theaters this weekend, the original 1973 TV movie is back on DVD (well, DVD-R) through the Warner Archive in a new "Special Edition" (at lead by MOD standards).
No, it's not a lost masterpiece, but it is fun. Young marrieds Kim Darby and Jim Hutton move into an old house with a secret locked away in a boarded-up room. William Demarest is the amiably crusty old carpenter who warns them that "Some things are better left as they are," advice they predictably ignore. Their renovations unleash a small swarm of mumbling demons in furry jumpsuits and rubber masks (they look like cousins to the gremlin from the "Twilight Zone" episode "Nightmare at 20,000 Feet," but with creepy shriveled heads). Hutton comes off as the worst kind of paternalistic husband, patronizing in one scene, scolding her like a fed-up parent in the next as the creepy little demons (who carefully hide themselves from all other eyes) hound her to distraction and terror.