Videodrone's take on the biggest, best, coolest and culty-ist releases of the week.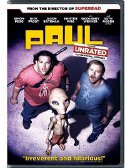 You could describe "Paul" (Universal), a road movie "E.T." comedy with Simon Pegg and Nick Frost as sci-fi geeks who pick up an extraterrestrial hitchhiker, as "Close Encounters of the Nerd Kind." MSN has an exclusive extended scene video clip along with a DVD and Blu-ray review here.
Continuing on the alien theme is "Mars Need Moms" (Disney), an animated comedy about maternally-challenge​d Martians looking for a little human nannying, from producer Robert Zemeckis and his motion-capture approach to animation. "Your Highness" (Universal) takes the stoner comedy to the dark ages of knights and quests and Danny McBride as black-sheep prince with more arrogance than aptitude. Both were critic and commercial flops.
MSN critic James Rocchi is more upbeat about "Jumping the Broom" (Sony), "a perfectly acceptable rom-com with a few nice performances" starring Angela Basset, Paula Patton, Laz Alonso and Loretta Devine, and far less sanguine about "Super" (MPI), a grimy superhero satire with Rainn Wilson as a costumed nutcase.
On the indie front is "Taqwacore: The Birth of Punk Islam" (Kino), a documentary on the Muslim punk rock movement in America.
Browse the complete New Release Rack here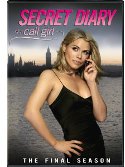 TV on DVD:
"Secret Diary Of A Call Girl: The Final Season" (Paramount) brings the Showtime original series starring Billie Piper as a high-priced London escort and secret author to an end with just as much sexy nothingness and weightless satire that defined the rest of the series' run. Videodrone closes the book on the show here.
"Hey Arnold! Season One" (Shout! Factory) features the first 20 episodes of the hit Nickelodeon animated series about a goofy kid with a head shaped like a football. "M.A.S.K.: The Complete Original Series" (Shout! Factory) features all 65 episodes of the eighties-era animated series about a secret society of crime-fighters with high-tech toys.
Cool, Classic and Cult:

"The Fox And The Hound / The Fox And The Hound 2 – 2-Movie Collection" (Disney) bundles up remastered versions of the 1981 animated features and 2006 direct-to-DVD sequel for a new remastered DVD edition and a Blu-ray debut, both packed with extras.
Dirk Bogarde solidified his status as a British matinee idol as the romantic lead of the hit 1954 comedy "Doctor in the House" (VCI), which makes its official American DVD debut along with six of the sequels of the long-running film series. Bogarde stars in three of them—"Doctor At Sea" (VCI), "Doctor At Large" (VCI) and "Doctor in Distress" (VCI)—as well as the 1955 thriller "Simba" (aka "Mark of Mau Mau") (VCI), also making its DVD debut. Videodrone surveys the entire series here.
"Wide Open" (Impulse) is a cult artifact of what you might call Swedish sin-ema, notable largely for the presence of cult actress Christina Lindberg in a minor role. "Clash" (Indomina) is a martial movie from the South Korean action movie industry.

Blu-ray Debuts:
"The Battle Of Algiers" (Criterion) is Gillo Pontecorvo's controversial drama of Algeria's struggle for independence from France, a mix of documentary and drama directed with a newsreel immediacy and a documentary seriousness. The Blu-ray debut is a lavish two-disc edition filled with supplements and a thick booklet.
And for a jolt of nostalgia, go back to high school with "Fast Times at Ridgemont High" (Universal) and "Dazed and Confused" (Universal).
Complete list of releases and coming attractions at Videodrone