Videodrone's take on the biggest, best, coolest and culty-ist releases of the week.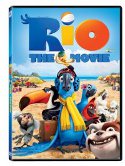 New Releases:
"Rio" (Fox), from the creators of "Ice Age," takes us to the tropical color of Brazil for the story of a domesticated macaw rediscovering his wild roots in the chaos of Carnivale. The animated family adventure is filled with color and music, which helps distract from the familiarity of the journey. Videodrone's review is here.
"Soul Surfer" (Sony) tells the true story of pro surfer Bethany Hamilton, who overcame the odds and became a champion after losing her arm in a shark attack. Unfortunately, MSN critic Kat Murphy tells us that the film turns a promising story into "a simplistic mishmash of youth fellowship homily and Hawaii tourism ad." "The Music Never Stopped" (Lionsgate), starring J.K. Simmons and Lou Taylor Pucci, is also based on a true story, this one about a father who connects with his estranged son after the young man is diagnosed with a brain tumor that affects his memories. "It's sentimental, yet so honest and eccentric that it rises above schmaltz," writes Boston Globe critic Ty Burr.
Indie of the week is "Stake Land" (Dark Skies/MPI), an unconventional take on the vampire film reimagined as a survival drama by way of a zombie thriller. Videodrone's review is here. Also new: the animated film "My Dog Tulip" (New Yorker) from Britain, the French drama "Outside the Law" (Palisades) about three brothers fighting for Algerian independence and the documentary "Exporting Raymond" (Sony).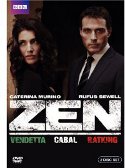 TV on DVD:
Arriving on DVD and Blu-ray mere days after concluding on "Masterpiece Mystery," "Zen: Vendetta / Cabal / Ratking" (BBC) collects three feature-length adaptations of Michael Dibdin's novels about an honest police detective (Rufus Sewell) in Rome trying to solve murders in the mire of political corruption and official incompetence. Videodrone's review is here.
Danny McBride is back as the biggest jerk (and the most unjustified ego) in professional baseball in the rude HBO comedy series "Eastbound & Down: The Complete Second Season" (HBO).
"United States of Tara: The Complete Third Season" (Paramount), starring Toni Collette as a wife and mother with multiple personalities (reviewed here), and "Everwood: The Complete Fourth Season" (Warner), the family drama with Treat Williams Gregory Smith, mark the end of each of the respective shows. And Tom Selleck returns in the TV movie "Jesse Stone: Innocents Lost" (Sony).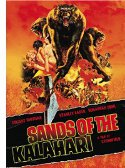 Cool, Classic and Cult:
Stuart Whitman, Stanley Baker and Susannah York are just some of the passengers stranded in the remote African desert after a plane crash in "Sands of the Kalahari" (Olive), the 1965 survival thriller from director Cy Enfield. Videodrone's review is here.
"MST3K vs. Gamera: Mystery Science Theater 3000, Vol. XXI" (Shout! Factory) lets Joel Robinson and his faithful robot sidekicks Tom Servo and Crow T. Robot loose on five original Gamera monster movies from the 1960s in a deluxe edition in a tin box.  "Streetwalkin'" (Shout! Factory) is an eighties street drama notable for the early appearance of Oscar winner Melissa Leo as a teenage hooker and indie horror film "YellowBrickRoad" (Vivendi) arrives fresh off the film festival circuit.
Blu-ray Debuts:
Sean Connery is the Sherlock Holmes of the 14th century in "The Name of the Rose" (Warner), Jean-Jacques Annaud's intelligent adaptation of Umberto Eco's best-selling novel. Videodrone's review is here.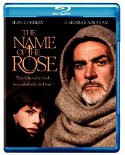 With a new incarnation of Robert E. Howard's barbarian hero arriving in theaters this summer, the eighties features "Conan the Barbarian" (Universal) and "Conan the Destroyer" (Universal), the films that turned bodybuilding champion Arnold Schwarzenegger's into an action hero, arrive hit Blu-ray. Videodrone gets pumped up about them here.
And on that same theme, Robert Rodriguez's whimsical junior secret agent films "Spy Kids" (Lionsgate), "Spy Kids 2: The Island of Lost Dreams" (Lionsgate) and "Spy Kids 3: Game Over" (Lionsgate) debut on Blu-ray in advance of the fourth "Spy Kids" chapter. Videodrone is on the case here.
John Cusack is an imaginative high school kid who figures he'd be "Better Off Dead" (Paramount) in Savage Steve Holland's wacky comedy, and "Ferris Bueller's Day Off: Bueller… Bueller… Edition" (Paramount) gets rereleased for the film's 25th anniversary.