New Releases:
Johnny Depp taps into his inner lizard for "Rango" (Paramount), voicing a pet chameleon with thespian ambitions who takes the role of sheriff in a desert town, only find that what he thought was on old Hollywood oater is actually a spaghetti western by way "Chinatown." While ostensibly a family film, this southwestern goof is really for really big kids with a love of movies, a sense of whimsy and a soft spot for the hideously gorgeous creatures of the desert. And the Blu-ray edition features an extended edition (four minutes longer) and an alternate ending. Videodrone's review is here. "Rango" arrives on Friday, July 15, as does the remake of "Arthur" (Warner) with Russell Brand in the Dudley Moore role and Helen Mirren providing the dignity to Brand's whimsy.
"The Lincoln Lawyer" (Lionsgate), a legal thriller with a meaty story, is as faithful an adaptation (from the Michael Connelly novel) and as sturdy a piece of old-fashioned storytelling as you'll find this year. It's a pleasure to find Matthew McConaughey in a role where his smarmy charm is so appropriate, but above all it's a good yarn well told, and that is no small achievement in today's high concept Hollywood. Videodrone's review is here.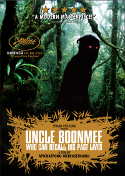 Winner of the Palm d'Or at Cannes 2010 and finally stateside in 2011, "Uncle Boonmee Who Can Recall His Past Lives" (Strand) is not a film for everyone, which is too bad for everyone else because it is gentle and sublime and magical and magnificent, a film that straddles the physical and the spiritual worlds. This is for anyone seeking out films that deliver a different kind of cinematic experience. Videodrone's review is here.
"Insidious" (Sony) comes from the curious collaboration of the creators of "Paranormal Activity" and "Saw" and a determination to return to shivery old-school scares, while the Spanish "[REC] 2" (Sony) picks where the first left off: in a quarantined apartment building swarming with zombies.
Browse the complete New Release Rack here
TV on DVD:
"ER: The Complete Fifteenth and Final Season" (Warner) – The long-running medical drama ends after fifteen years with a 22 episodes of crises, emergencies, complicated lives and lots and lots of returning faces: Noah Wyle returns in a recurring role through the season and Julianna Margulies, Laura Innes, Eriq La Salle, Maura Tierney, Goran Visnjic, Alex Kingston, Sherry Stringfield and others drop by for their farewells to the show. Videodrone's review is here.
"Damages: The Complete Third Season" (Sony) pits Glenn Close's hardball attorney Patty Hewes against a Bernie Madoff-like figure (Videodrone's review is here) and "MI-5: Volume 9" (BBC) adds Sophia Myles to the ranks while another member of the team reveals a secret past with deadly consequences. Videodrone's review is here.
On the lighter side, "Entourage: The Complete Seventh Season" (HBO) finds Vincent Chase bent on career self-destructive course while his buddies try to pull him out, and then there is "Robot Chicken: Star Wars™ Episode III" (Warner), the third collection of blackout sketches and sight gags from a galaxy not far enough away, with hours of supplements.
Flip through the TV on DVD Channel Guide here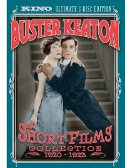 Cool, Classic and Cult:
Not just one of the greatest and most inventive slapstick comics of all time, Keaton was an artist and a filmmaker could warp gags and spin situations until they left the plane of reality, taking audiences with him in a blast of laughter. "Buster Keaton: The Short Films Collection (1920-1923)" (Kino) collects all 19 short comedies in a single set in superb editions on both DVD and Blu-ray. Videodrone's review is here.
"Battle Beyond the Stars  30th Anniversary Special Edition" (Shout! Factory), which launched Richard "John Boy" Thomas into a space-age "The Seven Samurai," was Roger Corman's budget-minded answer to "Star Wars." But this knock-off also sports a screenplay by John Sayles and marked the professional debut of an inventive art director and set designer named Jim "James" Cameron, and the new edition features plenty of supplements. Videodrone's review is here. Also from Shout! Factory is the seventies post-apocalyptic thriller "Damnation Alley" (Shout! Factory) with Jan-Michael Vincent.
For pure, unadulterated exploitation, there is the "Women In Prison Triple Feature" (Panik House), which features the "Mr. Skin" seal of approval, and the SyFy Channel creature feature "Dinocroc Vs. Supergator" (Anchor Bay), from producer Roger Corman and featuring one of the last screen appearances by David Carradine.
Blu-ray Debuts:
"Brazil" (Universal), Terry Gilliam's absurdist nightmare of a Kafka-esque future, debuts on Blu-ray in the 132 minute cut but with no supplements. Too bad, as this is one film that deserves the Criterion treatment and Gilliam's preferred 142-minute director's cut. More on Videodrone here.
Criterion, meanwhile, offers their HD upgrade of Mike Leigh's "Naked" (Criterion), perhaps the director's most controversial film, with all the supplements carried over from the earlier DVD release.
Build Your Library Essential of the Week:
"Buster Keaton: The Short Films Collection (1920-1923)" (Kino) – While most silent cinema appeals to a specialized segment, the 19 short comedies of Buster Keaton are, along with the Charlie Chaplin's 12 Mutual film, the peak of creativity, ingenuity and comic grace in American silent comedy shorts. They are brilliant, timeless and endlessly entertaining.