The week following a major holiday always ends up a little thin, in numbers if not in quality, and this week is no different. In this case, it means the kinds of movies that usually get overshadowed by  blockbusters get to stand out. For example…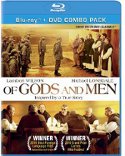 New Releases:
"Of Gods and Men" (Sony), loosely based on the true story of the Cistercian monks in a monastery in Algeria, is as powerful a film you'll ever see about faith, duty and commitment. This austere, modestly-produced French language drama, which won awards at Cannes, is astounding and unforgettable, a profound affirmation of brotherhood across faiths and a gripping, emotionally alive human drama of ordinary men who make an extraordinary commitment. In French with English subtitles, with two featurettes on the real-life monks who inspired the film. Videodrone's review is here.
From the sublime to the furious, we find "13 Assassins" (Magnolia/Magnet), a samurai action thriller from Japanese madman auteur Miike Takashi that plays like an outlaw "The Seven Samurai" by way of "The Dirty Dozen." Videodrone's review is here. And into the pure gonzo insanity is "Hobo With a Shotgun" (Magnolia/Magnet), a blood-spattered love letter to the seventies grindhouse vengeance movie with Rutger Hauer as the strangely paternal hobo who goes all "Walking Tall" on a small town so corrupt it could only happen in the movies. And the special editions on DVD  and Blu-ray are packed with supplements. Videodrone's review is here.
More on the New Release Rack here.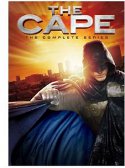 TV on DVD:
"The Cape: The Complete Series" (Universal) is, in fact, the first and only ten episodes of a small screen superhero series that never found an audience. A lot of shows about caped heroes get described as "comic book" out of laziness but this show really does draw from the four-color tradition, with a Batman-like character in a near-future version of Gotham City at its most corrupt, a rogues gallery of crooks defined by colorful gimmicks, a circus of crime and a schizophrenic supervillain lording over it all. Too bad it never found the mad inspiration to power the pulp storytelling. Videodrone's review is here.
"Eureka: Season 4.0" (Universal) sends the cast of the goofy town of maverick inventors and eccentric geniuses into an alternate reality for ten episodes (plus the "Warehouse 13" crossover episode). "The Best of Sesame Street Spoofs Volume 1 & Volume 2" (Warner) offers two hours of educational comedy with the Muppets doing gentle parodies of shows both then ("Hill Street Twos" and "Monsterpiece Theater") and now ("Mad, Man Men" and "Desperate Houseplants").
See more at the TV on DVD Channel Guide.
Cool, Classic and Cult:
"The Sacrifice" (Kino), Andrei Tarkovsky's final film, is newly remastered for DVD and Blu-ray. The sublime film of spiritual rebirth during a cataclysmic war (or is all a nightmare) is accompanied by the 1988 documentary "Directed by Andrei Tarkovsky," which was largely shot during the production of "The Sacrifice." Videodrone's review is here.
"Trailers From Hell! Volume Two" (Shout! Factory) features 20 more trailers from classic and cult movies, with introductions and commentary by such filmmakers as Roger Corman, Joe Dante, Guillermo Del Toro and John Lands (among others), but the real selling point is a new anamorphic version of Corman's classic 1960 "Little Shop of Horrors." Reviewed on Videodrone here.