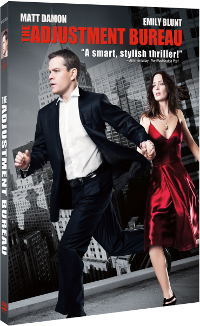 The Adjustment Bureau (Universal)
Who would have guessed that men with hats are responsible for the fate of the world? Seriously, according to this film a bunch of guys who dress like the cast of Mad Men (and for that matter includes a co-star of Mad Men with his wardrobe intact) are rewriting the narrative of our lives: changing bad decisions, repairing mistakes and erasing the evidence of their intrusion. Kind of like moving the furniture around while we're not looking and then convincing us it was never otherwise, and all for our own good.
It's a fun premise and one of the more playful bits of Big Brother paranoia in the canon of Philip K. Dick, whose ideas are as endlessly borrowed by Hollywood as they are misunderstood. Or ignored. By the time writer/director George Nolfi is done with his adaptation of the PDK short story "Adjustment Team," all that's left is a premise for a romantic adventure about how the power of love overcomes the near-magical interference of God's secret service detail.
Given that, Matt Damon is a likable hero as the underdog political hopeful undone by his past mistakes and Emily Blunt is appealing as a modern dancer with her own impulse issues. They meet cute (in the men's room, where it turns out they are both hiding out), she inspires him, and the adjustment bureau goes into action to unravel the "damage" of a love affair that blossoms when they fail to intercept another chance meeting. It's kind of cool as they leap all over New York City through doors that, for them, open up to shortcuts across town (it's all in the hats, I tell ya), and it makes for a lively climactic chase and a whirlwind tour through the Big Apple, which is photographed to striking effect by cinematographer John Toll. Too bad the film doesn't have anything else to offer besides the chemistry between the photogenic leads, the handsome location shooting and the usual bromides of risking all for true love.