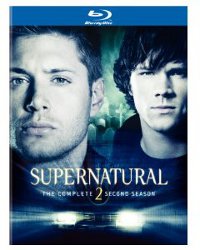 "Supernatural: The Complete Second Season" (Warner)
I don't believe in guilty pleasures so I offer this as a guilt-free pleasure. The WB road show series about brothers Sam and Dean (Jared Padalecki and Jensen Ackles) tracking down reports of supernatural phenomenon in a '67 Chevy Impala began as a youth take on Kolchak: The Night Stalker by way of The X-Files and turned into a lively post-Buffy series about freelance holy warriors on a personal mission. The cult series picked up dedicated fans caught up in the show's mythology of demons and angels and is going so strong that the earlier seasons are now getting the Blu-ray treatment.
This season follows the once estranged brothers on a journey to track the demon that killed their mother and, in the season debut, their father (guest star Jeffrey Dean Morgan). By the end of the season, where the legacy of the brothers is finally revealed, the costs are even higher: a deal with the devil and a whole new war when a small army of demons is freed from hell and unleashed upon the Earth.