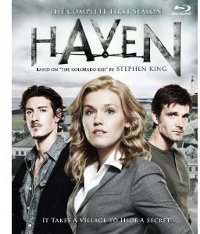 "Haven: The Complete First Season" (eOne)
The SyFy Channel found both popularity and critical acclaim with their reboot of Battlestar Galactica but never really capitalized on the interest in serious, well-written science fiction and mostly settled on a line-up of SF-lite programs such as Eureka and Warehouse 13. Haven, a Canadian co-production spun from the Stephen King novel "The Colorado Kid," fits right in to the line-up: weird tales in a familiar format.
In the small coastal town of Haven (which, irony alert, is anything but a haven), "the troubles" do not refer to Ireland but to the inexplicable things that happen on a nearly daily basis and have been occurring for as long as anyone can remember. Audrey Parker (E.R.) is the usual too-young-to-be-a-ja​ded-agent young actress cast as a tough and talented FBI agent Emily Rose, whose shadowy past is somehow tangle up in the town's bizarre legacy, and she takes a short leave from the Bureau to join the local Haven PD (bringing the ranks up to three) and investigate the freak-show phenomenon of this town: men aging to death in hours, stuffed and mounted animals coming back for revenge, spontaneous earthquakes and fires and the like.