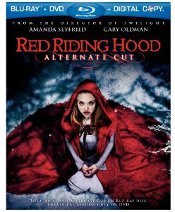 "Red Riding Hood" (Warner)
Not your grandmother's fairy tale, this mix of fable and werewolf film tries to get the blood flowing in the new brand of horror-fantasy-roman​ce that the "Twilight" films are so busy draining the life from.
Director Catherine Hardwicke, in fact, directed the first (and the best) of the Twilight films before "creative differences" brought a parting of the ways. So she went a little more feral for this story, which is less shy about churning up sex and lust and feral drives, though it does keep it down to a PG-13 level. And while it seems to have plenty going for it, from a ripe Amanda Seyfried in the lead under the scarlet hood to Gary Oldman as a piously dangerous Inquisition priest who doesn't mind torturing a few villagers to rid the place of the supernatural wolf preying upon its inhabitants, this gorgeously-mounted production fails to rouse the primitive ferocity of the primal beauty and the beast tale.