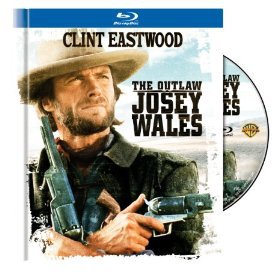 The Outlaw Josey Wales (Warner)
Clint Eastwood brings warmth and low key humor to his previously cold-blooded revenge-seeking persona in this post-war western, his fifth film as a director. Wales is family-man farmer turned Confederate guerrilla after the brutal massacre of his family by Union renegades, who refuses to surrender after the war and is hunted by the very Union butcher who led the raid on his farm. On his trek south he collects more strays than the SPCA, a family-like community that draws his repressed paternal instincts back out and draws him back into life. Eastwood's explosions of brutal violence cinematic eye recalls Leone with his vision of a changing landscape as dangerous as it is embracing, but he leavens the vision with humor and trust (something in short supply in the westerns he made until "Josey") and creates a new chapter in his work.
The Blu-ray debut features newly-recorded commentary by critic and Eastwood biographer Richard Schickel and the new featurette "Clint Eastwood's West" (presented in HD) along with the vintage featurettes "Eastwood in Action" (from 1976) and "Hell Hath No Fury: The Making of the Outlaw Josie Wales" (from 1999). Comes in a Warner Blu-ray Book format, with an illustrated booklet and a disc tray in the back inside cover.