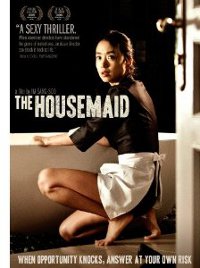 "The Housemaid" (IFC)
Im Sang-soo's delicious thriller stars Jeon Do-yeon (Cannes 2007 Best Actress winner for "Sunshine) as a provincial girl who is hired as a housemaid to a privileged family whose sense of entitlement traps her in an impossible situation. Given the film's prologue, a  public suicide in a busy city center, where crowds crane to get a peak of the jumper before going on with their lives and her last mark on the world is washed away by the street cleaners, this passive, compliant girl is just the latest in a cycle of maids who are used, abused and discarded, just another creature comfort for someone with money, power and privilege.
Im Sang-soo's coolly observed thriller, a remake of a 1960 Korean classic, is an elegant piece of work and perhaps to coldly observant of the toxic atmosphere—the rich are indeed different from us, the film seems to be saying—while putting their calculated gamesmanship of family power plays under the microscope as if it was an unnatural history documentary. She's just a piece to be sacrificed according to their needs. But she refuses to go quietly and her defiant last stand is as ferocious as it is hopeless and helpless.
Read more on Foreign Film  releases this week on MSN Videodrone