Biutiful (Lionsgate)
Alejandro González Iñárritu's first feature without screenwriter Guillermo Arriaga, he of the fractured narratives and puzzle-piece screenplays, takes a more linear approach than previous films ("Babel," "21 Grams") but is no less seeped in the heavy burden of human responsibility.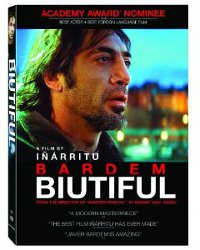 "Biutiful," starring Javier Bardem as a dying man struggling to leave his children a legacy before he passes, is set in Barcelona, but not the Barcelona of romance and dreams and famous Gaudi landmarks. This is a world of slums and urban streets packed with illegal immigrants and the dispossessed hustling for a buck, a grim world of crime, poverty and human life as a currency of exchange.
Uxbal (Bardem) is a middleman in the illegal immigration game, driven by desperation but plagued by guilt: he cares too much about the lives of the people he's charged with watching over like a jailer. Even his best intentions can have devastating consequences. Meanwhile he tries to coax his junkie wife (Maricel Álvarez) back to rehab, if only to give their children a chance after he's gone, and reaches back to his own past as he oversees the reburial of a father he never met, all while silently endures the pain of incurable cancer eating away his life.
Grueling, yes, and devastating. González Iñárritu plunges us not just into the lives of these folks, but into their faces, where pain and fear and mortality—and at times joy and love—is etched into their every look. At almost 2 ½ hours, the ordeal is almost unbearable and terribly rewarding. As the street tragedies give way to visions of grace and personal sacrifice, it's not clear if it's "real," the visions of a dying man or the gift of a storyteller to his audience.