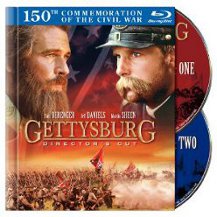 Gettysburg (Warner) / Gods and Generals: Extended Director's Cut (Warner)
There's little doubt that Gettysburg (1993) and Gods and Generals (2003) were labor of love projects for director/writer/prod​ucer Ron Maxwell. They are both seeped in detail and scope and he (thanks to the participation of a small army of dedicated Civil War re-enactors) recreates two of the most important battles of the Civil War with great fidelity to history and painstaking effort to communicate the culture of war in the 19th century. As cinema, however, they are not always so compelling.
Gettysburg is the more successful of the two. Built on the unshowy incarnations of Civil War officers by Martin Sheen (General Robert E. Lee),Tom Berenger (Lt. General  Longstreet), Stephen Lang (Major General Pickett), Richard Jordan (Brigadier General Armistead) and especially Jeff Daniels as Colonel Joshua Lawrence Chamberlain, a former schoolteacher whose leadership held an essential ridge for the Union, it puts the battle in human terms without sinking into melodrama off the field of battle. It's a hard balance to maintain and the film tends to flounder when Maxwell stops to give every officer some rousing speech before battle, which the actors deliver in a manner that suggests 19th century stage Shakespeare, very dramatic and theatrical and self-aware. It feels right for the period but stops the momentum dead time after time.
Maxwell is far more effective explaining the tactics and battle plans in practical terms as officers pour over maps and discus troop movements and commanders try to convey their piece of the plan to often uneducated and nominally-trained soldiers. And through it all, he reminds us that there are human beings behind every attack and every death. It's quite an accomplishment.
Continue reading on MSN Videodrone for Blu-ray details and Gods and Generals: Extended Director's Cut.