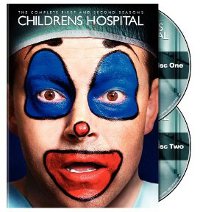 Childrens Hospital: The Complete First & Second Seasons (Warner)
Rob Corddry created, wrote, directed and starred in the original incarnation of this live action spoof of medical drama soap operas created for the Cartoon Network. The first season consisted of six-minute chapters of absurdities, with Corddry as the clown doctor (promoting "the healing power of laughter," which isn't doing well under his watch), Lake Bell as the hot doc who narrates with distracted, confused musings, Ken Marino as the nation's leader in malpractice suits and Megan Mullally channeling ER's Dr. Kerry Weaver as the chief surgeon and administrator, just a few of the friends he brought in to goof in the hall of Childrens Hospital. For the second season the episodes expanded to twelve minutes apiece, Henry Winkler and Malin Akerman (replacing Lake Bell as the hot doc) joined the cast and Corddry split writing and directing duties with friends, who expanded the parody to encompass a behind-the-scenes episode and a "live" episode with a race to save the only man capable of bringing peace to the world. Yeah, that's gonna end well.
The brevity of the format lends itself to gonzo turns without wearing out the gag and to guest stars dropping by (Nick Offerman , Nick Kroll, David Wain, Ed Helms, Jason Sudeikis, Kurtwood Smith, John Cho, Paul Scheer, Eva Longoria and others show up for an episode or two). By the same token, it's better appreciated in short pieces; Continuity isn't essential (half of the "Previously on Childrens Hospital" clips are just made up) for enjoyment. And if you're wondering who the heck is  Sal Viscuso, the character that Michael Cera is credited with playing in each and every episode, just listen to the PA announcements.
The two seasons (10 from Season One, 12 from Season Two, each on separate disc) run about three hours altogether. The two-disc set (in a standard case with hinged trays) also features "Rob Corddry and Cutter Spindell: The Man Inside the Man Behind Childrens Hospital" (with Corddry playing both the real and the fiction stars of the show), "Dr. Owen Maestro Answers Questions From Kids" (with Rob Huebel), 30 minutes of deleted scenes  and outtakes, a gag  reel, a music video and wraparounds from The Cartoon Network broadcasts.