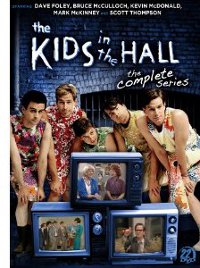 The Kids in the Hall: Death Comes to Town (A&E)
The Kids in the Hall: The Complete Series Megaset (A&E)
All five seasons of comic insanity from kooky kids Dave Foley, Bruce McCulloch, Kevin McDonald, Mark McKinney, and Scott Thompson, the improv comedy group that became Canada's answer to Monty Python's Flying Circus. And I don't just mean that they like to dress up as women. They do, of course, in between crushing heads, dating cabbage heads, and lisping monologues by the out, flaming and proud Buddy Love (Thompson). Other favorite characters include the Chicken Lady and Mr. Heavyfoot. The shows were originally made for HBO (and the CBC in Canada), so don't be surprised to hear some salty language or comic gore slip into the skits. 30 Helens agree: "The Kids in the Hall" is as irreverent, energetic, and inventive as sketch comedy gets.
100 episodes on 20 discs, plus interview featurettes, "Best of" sketch compilations, commentary to select episodes and bonus performance, in a box set of five cases, along with the two-disc The Kids in the Hall: Death Comes to Town, a new mini-series made for Canadian TV and shown stateside on IFC.
Made in 2010, Death Comes to Town (also available separately) reunites the troupe for an original eight-part series of half-hour episodes written by and starring the five Kids. They take all of the major roles in the bizarre tale of a small Canadian town beset by mystery when Death, his paunch protruding over his codpiece, arrives on a motorcycle and dispatches the unctuous mayor, leaving plenty of suspects.