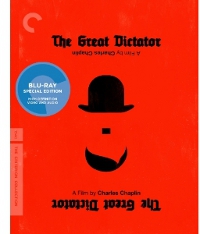 The Great Dictator (Criterion)
Chaplin knew it, and so did Lubitsch: comedy is the best weapon against hate. Like Lubitsch's brilliant "To Be or Not to Be," Chaplin's 1940 classic satirizes Fascism and the Third Reich with his own stock in trade: vaudeville burlesque. Chaplin leaves the Tramp behind to play — in his first genuine speaking role(s) — both 20th century Napoleon "Adenoid Hynkel" and a look-a-like amnesiac Jewish barber, and Jack Oakie is a dead ringer for a certain Italian dictator as Napaloni of Bacteria.
If it soars when Chaplin plays to his strengths (a balletic pantomime with Hynkel bouncing a globe like he owns the world), it threatens to sinks in his weakness for pathos — his climactic plea for peace, understanding, and tolerance, for all its sincerity, is played so straight-faced you keep waiting for the punchline — but for the passion of the speech. Chaplin once said that if he had known the true extent of Hitler's horrors, he would have never made the film, but there's nothing belittling in the film or in Chaplin's portrayal of the victims of the despot.