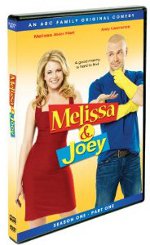 Melissa & Joey: Season One, Part One (Shout! Factory)
Network sitcom veterans Melissa Joan Hart (of Sabrina the Teenage Witch fame) and Joseph (Joey) Lawrence (Gimme a Break! and Blossom) are paired together in an update of "Who's the Boss?" for the ABC Family Channel.
Hart is the career woman here, a former party girl transformed into a young, ambitious city councilwoman suddenly responsible for her teenage niece and nephew (her sister is in prison – cue laugh track), and Lawrence a former commodities trader ripped off by her criminal brother-in-law and reduced to taking a position as her "many" (male nanny), a job he embraces with gusto. He's housekeeper, cook and resident parental figure, fiercely protective of the kids and free with child-rearing advice to the resistant Hart.