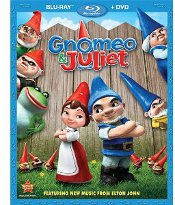 Gnomeo and Juliet (Disney)
The Shakespeare romantic drama gets played out by rival families (gangs? herds? colonies?) of garden gnomes from neighboring English garden yards, a feud that's been going on for… well, as long as any of these lawn ornaments can remember. These guys are color coded for easy identification—red hats and blue hats, matching the garish design themes of their dotty old homeowners (the Montagues and Capulets, naturally)—and their shenanigans play out to a score of classic Elton John songs (and two new ones) and a script crammed full of pop-culture references and Shakespeare puns (their address: 2B and Not 2B Verona Drive, Stratford-Upon-Avon)​.
Directed by Kelly Asbury (Shrek 2) and produced by Elton John through his company, Rocket Productions (which gets him his own gnome figure), Gnomeo and Juliet riffs off the Toy Story conceit that these inanimate objects get very animated indeed when people aren't looking, and of course two rivals fall in love as the rivalry escalates into acts of ceramic destruction.