Hurry Sundown (Olive)
Otto Preminger is one of the most fascinating directors of his time, a quiet moralist, an austere, understated stylist, and a director who maintained his independence by operating with the savvy and bottom-line awareness of a producer. Olive releases two films from late in Preminger's career, one an overheated melodrama set in 1946 Georgia where the antebellum past is still alive, if not at all well, the other (Such Good Friends) a modern social satire about friendship and betrayal in the wake of the sexual revolution.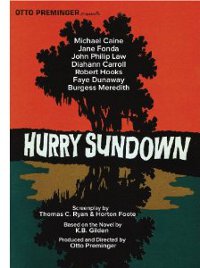 Hurry Sundown (1967), based on a best-selling novel, stars Michael Caine and Jane Fonda as the children of privileged Southern aristocracy trying to parlay the only thing of value they have left—the family land of a former plantation—into a new fortune. Only a pair of private plots—one owned by poor cousin John Phillip Law, the other by Fonda's former mammy (Beah Richards) and her son (Robert Hooks)—can thwart their plans, and the oily Caine is determined to cheat the owners out of its true value out of some twisted sense of entitlement, with a little help from his robe-wearing friends.
It's a soap opera wrapped around a culture of racism and white superiority, with the post-war era standing in as an exaggerated mirror of the sixties south embroiled in Civil Rights violence. There's overwrought melodrama to spare in the torn allegiances, communal loyalties and marital strife, notably between Caine and Fonda (their relationship is a constant state of interruptus, thanks to a handicapped son she babies every  time he cries) but also between Law and Faye Dunaway, unsure about her husband's partnership with a black neighbor. For all the stereotypes in the hothouse atmosphere (which was exaggerated in 1967 and almost cartoonish now), it's also awfully entertaining (Fonda's act with Caine's saxophone is classic Preminger pushing the envelope of the ratings code) and full of eccentric color (Burgess Meredith as a corrupt judge whose show of jurisprudence and objectivity is so contrived it's as if he's flaunting his corruption).
More on "Such Good Friends" (Olive), "Pale Flower" (Criterion), "Fate is the Hunter" (Twilight Time) and more at MSN Videodrone.