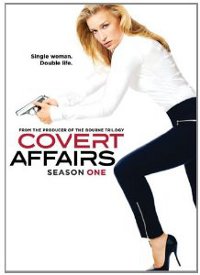 Covert Affairs: Season One (Universal)
I never understood why Piper Perabo didn't hit it big as a movie actress. Not that Coyote Ugly was any kind of masterpiece, but Perabo brought a wry personality and spunky character to a film about female waitresses famous for dancing on the bar for the (mostly) male patrons. She's funny, energetic, sexy, smart, and better than almost any film she has appeared in, beginning with the one-two punch of Coyote Ugly and The Adventures of Rocky & Bullwinkle in 2000.
Covert Affairs, a stylish, small-scale spy TV lite series created for the USA channel by Chris Ord and Matt Corman and backed by executive producer Doug Liman, is a lively and lightweight series and a terrific showcase for Perabo. Annie Walker is a talented CIA recruit who is pulled out of training for an assignment that needs her linguistic skills (turns out she has a gift for languages and speaks a half dozen fluently) and proves her ability to improvise under pressure. So she becomes the resident junior agent at HQ, working with intel veteran Auggie Anderson (Christopher Gorham from Ugly Betty), a former field agent who was blinded on a mission and now serves as Annie's handler (he's the master of the Braille computer) and office confidante, under unit head Joan Campbell (Kari Matchett), trying to hold her team together while under attack in company politics.