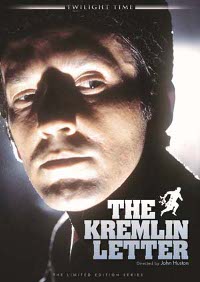 The debut release from Twilight Time, a new DVD label featuring limited run releases of select titles from the 20th Century Fox library, is a sprawling, globetrotting John Huston espionage thriller from 1970. Made in the wake of a spy movie boom, as the flamboyant James Bond fantasies gave way to disillusioned John Le Carre dramas and grim Cold War adventures like Alfred Hitchcock's Torn Curtain and Topaz, The Kremlin Letter is adapted from a from a twisty best-seller by Noel Behn that (in Huston's words) "had all the makings of a success… all those qualities that were just coming into fashion in 1970: violence, lurid sex, drugs." It's also steeped in the cynicism and opportunism of covert dirty tricks and undercover shenanigans behind the Iron Curtain, where national interest is lost in the private wars and personal schemes of international operatives. There's no patriotism or idealism in these spy games.
The complicated plot, in nutshell, revolves around a private team of spies and specialists subcontracted by an unnamed American intelligence outfit to retrieve a diplomatically embarrassing and potentially damaging letter. Patrick O'Neal's Charles Rone, a career Navy officer yanked out of his commission for a special mission by forces beyond his pay grade, is our point-of-view character, the new recruit learning the insidious games played in the name of counter-intelligence. But in the scheme of things he's just another player in a big, messy, tangled ensemble piece with a weird and wonderful cast in a free-for-all chase for the letter, the film's Maguffin in every sense of the term.
Richard Boone (with a bleach job and a ruddy face–the result of skin grafts from a major burn, he explains) takes the point as team leader Ward, a larger than life Texan with a good ol' boy manner and buoyant enthusiasm. He sends Rone to reunite a team of specialists: "The Highwayman" (Dean Jagger, first seen in a country vicar's garb); "Warlock" (George Sanders, found in drag performing in a gay club); "The Whore" (Nigel Green, a pimp in Mexico); and the team's old safecracker and second story man "Erector Set" (Niall MacGinnis), since laid low by arthritis. He's trained his daughter (Barbara Parkins as B.A.–no name, just the initials) to follow in his footsteps and she auditions by cracking a safe with her toes.