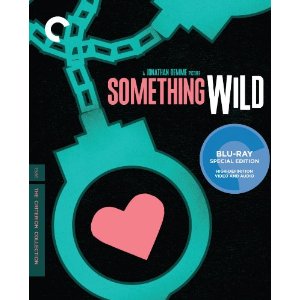 Something Wild (Criterion)
Jonathan Demme's breakthrough movie is many ways his best and certainly his most enjoyable, a screwball fling that takes a road movie turn into darkness. Melanie Griffith delivers her best performance as the sexy, flaky free spirit who takes a straight-laced businessman (Jeff Daniels) on the ride of his life. It's like a screwball Hitchcock film reworked for the freewheeling eighties indie culture (including cameo appearances by John Waters, John Sayles and The Feelies as the high school reunion band), and as their baggage tumbles out along the way, her past catches up in the form a creepily charming bad-boy ex. Credit Demme for discovering the explosive potential of a then-unknown actor by the name of Ray Liotta, who is unnerving as the old boyfriend who insinuates himself into their madcap spree, pushing their largely harmless rebellion into genuinely dangerous and predatory territory.
Released on DVD by MGM in 2001 (and re-released on a "Totally Awesome 80s Double Feature" with Desperately Seeking Susan in 2007), the film is readily available on DVD, but this new edition features Criterion's usual painstaking remastering: a restored digital transfer supervised by DP Tak Fujimoto and approved by Jonathan Demme and a freshly mastered soundtrack. And Criterion gives the film its Blu-ray debut, which is indeed something to celebrate wildly over. The supplements, however, are slim for a Criterion release, limited to new interviews with director Jonathan Demme (running over half an hour and full of frank discussion of the film and his career at that point) and screenwriter E. Max Frye (under ten minutes).
More DVD reviews at MSN Videodrone