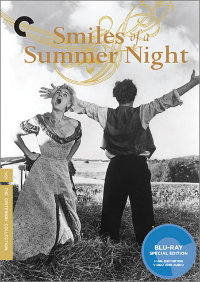 Smiles Of A Summer Night (Criterion)
Ingmar Bergman's reputation is built on a foundation of introspective human dramas and personal crises steeped in philosophical discussions, conversations that scrape tender emotions and troubled relationships laid bare. And yes, his career is filled with such cinema, much of it dark, most of it very serious and all of it (to a greater or lesser extent) exploring his ideas of drama, art, love and the complexities of human existence.
Yet the film that first brought Bergman to international attention in 1955 was neither dour nor dark. Smiles of a Summer Night is a light, sunny, airy sex comedy, like a Swedish version of a sly Lubitsch satire of love and class and sex by way of a Shakespeare comedy of mismatched couples reshuffled through the course of the film. It largely plays out at a weekend retreat in the country manor of beautiful (and somewhat notorious) stage actress Desiree (Eva Dahlbeck), or rather her worldly mother (Naima Wifstrand), something of a social courtesan in her day ("My dear daughter, I was given this estate for promising not to write my memoirs").
She invites Fredrik (Gunnar Björnstrand), an old lover who has recently reconnected, along with his much, much younger wife (Ulla Jacobsson) and troubled son (Björn Bjelfvenstam), a divinity student with very worldly concerns, notably a tormenting attraction to his stepmom. To stir it up, she also invites her current lover, the married Count Carl Magnus Malcolm (Jarl Kulle), and his wife (Margit Carlqvist), who connives  to help Desiree reshuffle the pairs to their desired outcome. Bringing the sextet up to an octet is Fredrik's earthy young maid (Harriet Andersson) and Desiree's hearty groom (Åke Fridell). While Desiree's mother provides the witty commentary to the awkward dance, the unfettered attraction and physical indulgence of the servants offers a refreshing simplicity to love and sex beyond these social creatures.