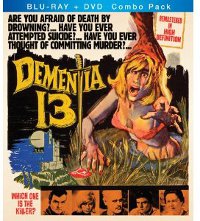 Dementia 13 and The Terror (Film Chest)
Film Chest launched its line of Blu-ray editions of public domain titles a couple of months ago with versions of The Stranger and Kansas City Confidential. This duo would have been a better launch. Whereas there already existed superior MGM editions of the first two on DVD (they are still better than the Blu-ray editions), this release of Francis Coppola's Dementia 13 and Roger Corman's The Terror on Blu-ray+DVD Combo Pack is a definite improvement over the best existing editions I'd seen on the market.
Francis Coppola (before adding the Ford) shot Dementia 13 (1963), his first "official" feature, for Roger Corman in Ireland on $20,000 seed money, using finagled locations and underpaid actors (William Campbell, Luana Anders, Bart Patton, Mary Mitchell) to flesh out a Psycho knock-off about a of an axe-murderer in an Irish castle (he reportedly wrote the script in three nights!). It's a bit murky, to be sure, but in the best Corman tradition Coppola creates some stunning images from limited resources. He goes his mentor one better with a few shocking, startling moments of axe-wielding violence using jagged cuts and the darkness to suggest what he can't show. Patrick Magee brings a little class to a couple of scenes, but the rest of the film (at least between the padding) is carried by shock and B-movie ingenuity.
The previous DVD edition from Roan, until now the best version out there, was fine but grainy and full screen. This widescreen edition, while a little soft  is cleaner, steadier and stronger overall, with more impressive B&W contrast. And the 16×9 image simply looks more accurate than the TV-print style of the previous full screen presentation.