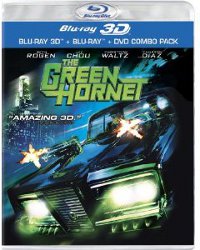 The Green Hornet (Sony)
A curious collision of genre, attitude and comic sensibilities, "The Green Hornet" takes the pulp radio answer to "Batman," reworks it through the stoner/overgrown adolescent humor of screenwriters Seth Rogen and Evan Goldberg as a star vehicle for Rogen, and then hands it off to director Michel Gondry ("Eternal Sunshine of a Spotless Mind"), the off-center auteur of indie whimsy and creative ingenuity. The resulting film (which was also reworked for 3D at the last minute) is part goof, part spoof, part self-aware action spectacle and part child-man buddy comedy: a superhero fantasy for the least-qualified hero to hit the screen (big or small) yet.
In this rewrite of the legend, Rogen's Britt Reid is the anti-Bruce Wayne, the spoiled, tabloid-headline millionaire scion of a respected publisher who decides to make himself into a masked vigilante after his father is murdered by gangsters and he discovers that the family mechanic Kato (Jay Chou) is also an inventor and a martial arts dynamo. It has all the planning of a kid trying to make a fantasy come true—no training montage here because Britt doesn't want to put in the sweat equity, he just wants the rush of the game—and the scrappy adolescent antagonism of a vain rich kid jealous that his "sidekick" is the real deal while he tries to buy his way into superhero game. Sort of like Pineapple Express with secret identities, a really, really funky car and Bruce Lee as the wheelman.