Dinoshark (Anchor Bay)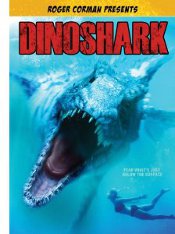 Before Roger Corman pushed the SyFy Channel sea monster splicing sweepstakes into pure absurdity with Sharktopus and Dinocroc vs. Supergator, he produced this much more mundane breed of killer shark. Starring Eric Balfour (the star of Skyline – I'm sure which production that speaks less of) is the shaggy, free-spirit hero here, a scuba diver on hard times who moves into a friend's boat on the coast of Mexico just as a prehistoric shark (preserved in arctic ice and set free by global warming) moves into the local waters to snack on vacationers. Balfour and co-star Iva Hasperger do have a decent rapport and the score is actually kind of fun, with Mexican guitar riffs worked into suspense themes and a few sly quotes of John Williams' Jaws theme periodically snuck in. But the mayhem is never wildly inventive enough to distract from the dull script and general familiarity of it all. This is one film that could use a jolt of high camp.
Directed by visual effects veteran turned prehistoric monster movie specialist Kevin O'Neill (his other director credit is Dinocroc – see a pattern emerging?), it lacks the wit, weird twists and goofy stunt casting of Corman's better SyFy originals. Dinoshark can leap through the air like a dolphin at a water park and grabs humans out of the air (even paragliding and flying in helicopters), but that's about as outrageous as it gets. And the race to save a team of teenage water polo players, followed by the shark's migration to the playground of Puerto Vallarta's beaches, is cribbed right out of the original Piranha, a seventies Corman production. Give the man his Green credentials: he recycles everything.
On DVD and Blu-ray, with commentary by producers Roger and Julie Corman with director Kevin O'Neill.