Bob Dylan turns 70 in May and the home video industry is ready to celebrate with releases that recall his legacy, including the Blu-ray debut of two Dylan essentials.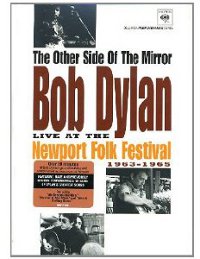 "The Other Side Of The Mirror – Bob Dylan Live At The Newport Folk Festival 1963-1965" (Columbia/Legacy), originally made for the BBC by producer/director Murray Lerner (who was there as a young filmmaker shooting the original performances with his own camera crew), arrived on DVD in 2007. It debuts on Blu-ray this week.
This is neither documentary nor concert film proper. Think of it as a video album of live tracks of essential Dylan performances. After a prologue performance of "All I Really Want to Do" from 1965 the production goes year by year, though not necessarily in strict chronological performance order.
Dylan is in political protest folk singer mode in his first festival appearance in 1963, performing "North County Blues," "Who Killed Davey Moore" and "Talkin' World War III Blues," dueting with Joan Baez on "With God on Our Side" and joining Baez, The Freedom Singers and Peter, Paul and Mary to close out the show with the sixties folk anthem "Blowin' in the Wind." The four songs from 1964—"Mr. Tambourine Man," "Chimes of Freedom," and two duets with Baez, "It Ain't Me, Babe" and "With God on Our Side"—are filled out with a chorus of Johnny Cash singing "Don't Think Twice" and Baez goofing a verse of "Mary Hamilton" in a parody of Dylan. The landmark 1965 appearance opens with two acoustic numbers at his July 24 afternoon workshop before it jumps to the evening set of his electric debut. The boos do indeed follow "Maggie's Farm" and "Like a Rolling Stone" yet Dylan is coaxed back for an acoustic encore and the cheers suggest all is forgiven.