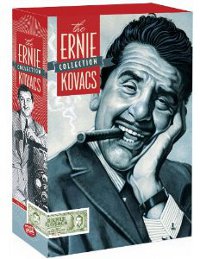 The Ernie Kovacs Collection (Shout! Factory)
Sometime in the late 1970s, some enterprising programmer at PBS had the brilliant idea of resurrecting a series of half-hour comedy specials from the late 1950s written and produced by and starring Ernie Kovacs and running them back to back with it's regular reruns of the ever-popular Monty Python's Flying Circus. With that single connection, a whole new generation discovered the genius of Kovacs and his creative approach to TV comedy, which twenty years later had aged only in terms of the tools. It's now more than 50 years since his final special was broadcast (posthumously, it must be said; he died weeks before it ran) and while the technology is primitive, the inspiration, the unexpectedness, the ingenuity and the grace of execution is as fresh and surprising and funny as ever.
Those specials are collected in Shout! Factory six-disc set The Ernie Kovacs Collection—they are indeed the highlight of a box of comedy genius—but merely represent a single disc in the six-disc set, the apex of work he began early in the 1950s in chat shows, variety specials, game shows and whatever else he was offered.
Ernie Kovacs was both the George Melies and the Tex Avery of live TV, playing with the untapped possibilities of the still evolving medium by imagining the impossible and finding the technical resources (some of them ingeniously simple) to make it happen. In an era before computer animation, digital editing or even videotape, when sketches played out like a filmed stage show, he created gags with the quality of cartoons and defied audience expectations with images created with primitive blue-screen and spilt-screen effects, unexpected editing and self-reflexive acknowledgements of his place a TV entertainer interacting with an audience. His inventive use of the tools of the medium and his conceptual approach to comedy was not simply ingenious, it was in the service of wildly creative humor, and his legacy is seen in everything from "Laugh-In" and "Saturday Night Live" to "Monty Python's Flying Circus" and David Letterman.