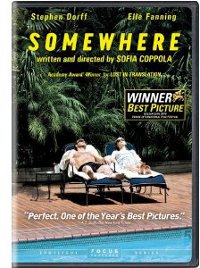 Somewhere (Universal)
Johnny Marco (Stephen Dorff), a Hollywood action star and tabloid celebrity, is indeed somewhere. He's just not sure where. That's not a matter of geography but grounding: living out of ritzy hotels that blur into anonymity, wandering in and out of parties and personal appearances in a haze, his personal life is a blank. He just moves from one professional commitment to the next, promoting one film or preparing for his next, and in between he just kills time. Until his ex-wife suddenly shows up at his hotel room to drop off their daughter Cleo (Elle Fanning) for an extended visit. "What happened to you?" she asks and he looks at the cast on his wrist and makes some remark about performing a stunt (he actually broke it falling down stairs at a party), but you get the idea the question was more general. He's unmoored, adrift, lost (and not in translation) and we see just how much through the course of the film.
The fourth feature from writer/director Sofia Coppola, which won the Golden Lion at the 2010 Venice Film Festival, is layered in the textures of inertia and aimlessness broken only by Johnny's sudden responsibility for his daughter, a bright and affectionate kid who he adores almost as much as she adores him. He's an attentive, engaged parent. He just doesn't have anything to give him direction (apart from his appearance schedule) when she's not in the picture. Coppola creates an atmosphere so palpable that you either appreciate her creation of this rarified existence or find it simply torpid and pointless. I'm in the former camp while MSN critic Kat Murphy leans in the other direction: "If Coppola's working off some leftover autobiographical angst from nomadic days as the privileged kid of an über-famous dad, "Somewhere" taps out her hour of cinematic therapy. She needs to move on, cinematically speaking." The DVD and Blu-ray are both supplemented with the 17-minute featurette "Making Somewhere."
Continue reading at MSN Videodrone for more on Rabbit Hole, Vision, Gulliver's Travels and more.