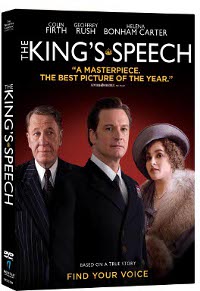 The King's Speech (Anchor Bay)
Winner of four Academy Awards, The King's Speech is the feel-good film of the year with portfolio. It's a triumph over adversity set against the majesty of royalty and the gravity of historical seriousness (the coming of World War II) and a veddy British friendship between prince and pauper, so to speak, teaming up to save the nation by curing one man's stutter. It's done with good taste, crisp restraint, self-effacing humor and, of course, the modesty we expect from British cinema. Stiff upper lip and all that, with just a touch of sentiment.
Whether or not you agree that The King's Speech is indeed the Best Picture by the Best Director (Tom Hooper) of last year, it is a perfectly respectable project and a fine production anchored by a superb performance by Colin Firth (who well earned his Academy Award for Best Actor) as Duke of York (Bertie to his friends) and the man who would be King George VI and a genially understated turn by inveterate over-actor Geoffrey Rush as Lionel Logue, the real-life Australian whose unconventional therapies helped the stammering royal overcome his impediment. And the slow development of trust and friendship between the king and the speech therapist is matched by the quietly observed affection between the Prince and his wife Elizabeth (Helena Bonham Carter), and his adoring attention to his two girls (one of them destined to be Queen Elizabeth II).
The re-edited PG-13 version of the film is in theaters but this version (rated R for language) is the one to see. "You don't stammer when you swear" kind of loses its force when, you know, Firth doesn't swear in his frustrated schoolboy way. The language is limited to a couple of scenes and the words pour out as a harmless but palpable  expression of frustration and a sign of the vulnerability and humanity of his royal highness.