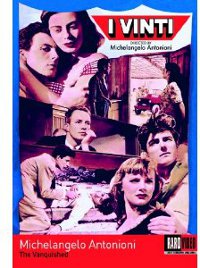 I vinti, the second feature by Michelangelo Antonioni after his apprenticeship as a screenwriter and director of poetic short films, was begun as a provocative exploration of juvenile delinquency and young adult alienation in post-war Europe. The film that was ultimately released, however, was a compromised production, thanks to demands from foreign government, Italian censors and the film's producers. That Antonioni's vision of affluent youth driven to crime and murder, not by desperation or depravation but by a strain of amorality, dissatisfaction and rebellion from the complacency of their societies, still comes through is a testament to his direction.
I vinti is a triptych film with three stories of murders committed by young men in three different countries. The first segment, set in Paris, follows a group of cynical, self-absorbed high school kids as they target a rich classmate and lure him into a country outing where he's to be robbed and killed. We return to Rome for the second segment, about a college boy who moonlights as a member of a petty smuggling outfit and goes on the run when he kills a customs officer during a police raid. The final chapter takes us to London where a callous and narcissistic young man tries to profit from the discovery of a murder victim and eventually confesses to the murder for the notoriety, convinced that he'll never be convicted of "the perfect crime." Though these are fictional stories, they are based on (or at least inspired by) actual events in each of the countries and Antonioni shot each segment on location with local performers speaking their native tongue.
The film became the center of controversy before it was even completed. In France, relatives of the youths involved in the real life "Affaire J3" demanded government intervention to protect the participants and the French government refused to let the negative out of the country until the Italian government got involved. The original Italian segment, inspired by the story of a young fascist supporter found dead in Rome, was transformed into a committed Communist activist who undertakes a terrorist action in the name of protest. It was attacked upon its debut at the Venice Film Festival and Antonioni, under pressure from his producers, completely rewrote and partially reshot the segment before its theatrical release (resulting in an almost abstract protagonist and the weakest of the three segments). The British section, inspired on the murder of a prostitute by 19-year-old Herbert Mills, resulted in the film being initially banned in Britain. It remained banned in France until 1963.