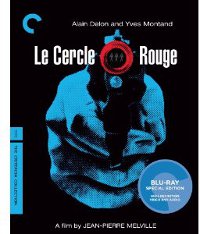 Le Cercle Rouge (Criterion)
Crime cinema has never been so meticulously and coolly executed as in Jean-Pierre Melville's 1970 heist classic starring Alain Delon and Gian Maria Volonte as coolly professional thieves, Yves Montand as a soused sharpshooter who regains his self respect when he joins their team, and Andre Bouvril as the unrelenting cop on their trail.
This is Melville's world of romantic doom, an irresistible cinema fantasy of loyalty, professionalism, sacrifice, and codes of honor in a rarefied world of classy, uncompromising crooks and "Le Cercle Rouge" is perhaps the ultimate expression of this universe: a world of men without women where cops and criminals are locked in a symbiotic co-existence. Melville's most austere work strips even the characters down to the essence of their professionalism and their integrity. But if the film lacks the emotional connection of Bob Le Flambeur or the tantalizing irony of Le Samourai, its doomed underworld perfection is, well, perfect.
The Blu-ray debut features all the supplements of Criterion's DVD release a few years back: Excerpts from the 1970 documentary "Cinéastes de notres temps: Jean-Pierre Melville (portrait en 9 poses)," video interviews with Melville friend and editor of "Melville on Melville" Rui Nogueira and with "Le Cercle Rouge" assistant director Bernard Stora, 30 minutes of rare on-set footage featuring interviews with director Melville, and stars Alain Delon, Yves Montand, and André Bourvil, archival French television interview footage with Jean-Pierre Melville and Alain Delon, original and 2002 rerelease trailers, and a 24 page booklet with new essays by Michael Sragow, Chris Fujiwara, and John Woo, excerpts from an interview with composer Eric Demarsan, and excerpts from Rui Nogueira's interview book with the director, "Melville on Melville."