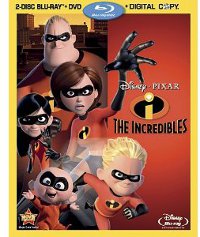 The Incredibles (Disney)
The digital debut of modern animation great Brad Bird (The Iron Giant) makes its Blu-ray debut.
Working with the computer animation pros at Pixar for the first (but not the last) time, Bird drops cartoonishly exaggerated super-heroics into the typical (by all outside appearances) suburban nuclear family, creating a super-powered dynamo of dysfunction and frustration in hiding (they're in witness protection from years of personal injury lawsuits against the crime-fighting hero types). Dad, aka Mr. Incredible (voiced by Craig T. Nelson), is a walking house stuck behind an insurance adjuster's desk who secretly sets up his neighborhood watch for a taste of the old thrill and Mom, aka Elasti-Girl (Holly Hunter), stays at home to raise a shy teenage girl prone to turning invisible and a rambunctious speed demon son with a penchant for pranks, until a secret organization recruits Mr. Incredible for a return to duty.
Bird gets in plenty of digs about cultural coddling and conformity while creating a familiar family dynamic and then transforms it into a spandex suit version of a seventies James Bond thriller. True to form, Bird doesn't coddle the audience when it comes to the danger faced by the family when megalomaniac supervillain Syndrome (a young punk who looks like the Heatmiser and is voiced by Jason Lee as a cruel, cocky brat) targets the Incredibles: "They will kill you if they get the chance," Elasti-Girl cautions her kids in utterly grave tones. "Do not give them that chance." The brassy score by Michael Giaccino is a perfect Bond-ian pastiche.