Dirty Mary Crazy Larry / Race With The Devil (Shout! Factory)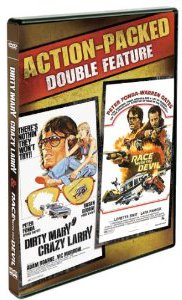 Shout! Factory continues their bargain-minded celebration of drive-in genre cinema with this double feature of cult favorites starring Peter Fonda, both previously released to DVD but out of print for some time.
In Dirty Mary Crazy Larry (1974), Fonda is all testosterone and irresponsible arrogance as Larry, a former race car driver who plots a supermarket heist with his devoted, more level-headed mechanic (Adam Rourke). Susan George is pure devil-may-care sexual firecracker as wild child Mary, who takes shotgun on their getaway because she doesn't have anything better to do, alternately feeding off the thrills and impulsively sabotaging their getaway with tantrums and pouty tit-for-tat pranks. The sparks are genuine, but they are a truly combustible pair bound to explode.
Directed with the equal energy by British director John Hough, whose lean, high-powered action scenes are energized by the dynamic, almost child-like performances of his thrill-addicted characters, it's a classic of seventies speed cinema, where car chase and stunt films were really about rubber hitting — and leaving — the road. Cars screech, metal collapses upon impact, and there's never any question that it's all really happening on screen. Vic Morrow leads the pursuit as a single-minded lawman determined to stop their getaway.