Car 54, Where Are You? The Complete First Season (Shanachie Entertainment)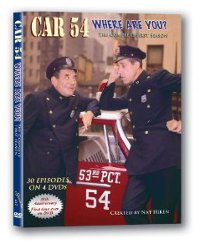 There's a small but loyal chorus of fans who proclaim Car 54, Where Are You? one of the funniest sitcoms of all time. You can count Leonard Maltin and Robert Klein among them and I can see their point, even if I don't share their point of view.
Created and mostly written by Nat Hiken (whose "The Phil Silvers Show," aka "You'll Never Get Rich," was a huge and influential hit) and set around a pair of beat cops in a fictional New York precinct, it follows the successful formula of little events snowballing out of control with lunatic momentum and mad logic. Joe E. Ross is the grinning, goofball buffoon Gunther Toody ("Oooo!… Oooo!") and Fred Gwynne his stand-up partner Francis Muldoon, loyal to a fault as he tries to save Toody from his well-meaning impulses with equally flawed plans.
This is vintage sitcom material in the "I Love Lucy" and "Phil Silvers Show" mode, with big, broad performances, emphatic writing and energetic ensemble work. Ross works his material with a maniacal grin and a body straining against his unfocused impulses while lanky Gwynne is all relaxed patience with a crooked grin, until desperation kicks in. Al Lewis (who reunited with Gwynne on "The Munsters" as Grandpa to Gwynne's Herman) joined the regular cast a few episodes in as the usually exasperated Leo Schnauser, fellow cop and the married man to the bachelor cop Muldoon, Charlotte Rae joined later in a recurring role as Leo's long-suffering wife and Nipsy Russell has a recurring part as Officer Dave Anderson. And Russell aside, this Big Apple squad of Keystone Kops was surely the first integrated police squad on TV, even if the other African American officer does little more than chorus duty with the rest of the crowd.