"Ricky" (IFC) is an adorable, cherub-faced infant whose angelic qualities don't end there. This cooing little bundle of joy sprouts appendages from shoulder blades that evolve from plucked turkey legs to fully-formed wings.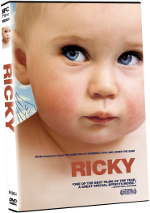 This strange little French film from Francois Ozon (who "freely adapts" Rose Tremain's novel "Moth") passes itself off as both a surreal fantasy and a warped satire but it plays more like a fable and could just as easily be the troubled dreams born of the anxieties of an expectant mother or a nervous child about to be a sister. That it works as all of the above is testament to Ozon's wily sensibility and understated direction.
Instead of alarm at this curious condition, single mother (Alexandra Lamy) and older sister (Mélusine Mayance) simply step up their baby-proofing and let the kid go, while the boyfriend father (Sergi López) looks for ways to cash in. Yet no one comes across as particularly mercenary and even the media fascination is largely harmless interest. And aside from all that, the image of the cooing baby Ricky lifted into the air, as if being dragged about by his own flapping wings, and laughing in delight of the great fun and freedom of it all, is priceless.
In French with English subtitles, no supplements beyond a trailer.