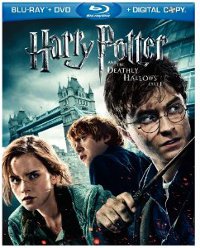 Harry Potter and the Deathly Hallows – Part 1 (Warner)
I like the work that director David Yates is doing with the "Harry Potter" franchise. He doesn't have a playful way with visuals or a gift for spectacle, but he does know character and he makes the relationships count in his films. Which makes "Deathly Hallows Part 1" a tough film, since so much of it is about the central relationship between the friends falling apart and our plucky heroes on the run and stuck far outside the "Potter" universe.
Harry, Hermione and Ron set off to hunt for the horcruxes (if you don't what they are or why they are important, you're not following the story) alone, to draw attention from their comrades in arms in the war against He Who Shall Not Be Named and his Death Eaters, a force that is literally bringing the shadow of evil over the magic kingdom.
Yes, as all fans of the books know, this is the dark one. Beloved characters die, best friends turn against one another and a mood of doom, that shadow of death and stifling repression, falls over the entire film. Which, you know, makes this one kind of a downer, the dark before the dawn promised in "Part 2."