Life Unexpected: The Complete First and Second Seasons (Warner)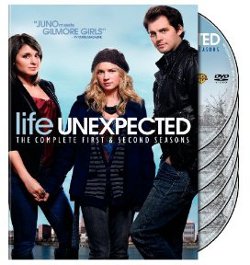 The CW's take on the family drama is an intriguing one as they go: after a life of being bounced around a series of miserable foster homes, 16-year-old Lux (Britt Robertson) tracks down the birth parents who put her up for adoption back when they were high-school students. Lux just wants to emancipate herself. Instead, the judge leaves her in the custody of her parents, who haven't even seen other since they were teenagers. The gimmick is that Lux has grown up hard and fast while her parents—radio personality Cate (Shiri Appleby) and underachieving bartender Baze (Kristoffer Polaha)—haven't matured much since high school. Lux is their second chance to grow up and the series offers lots of warm moments with these sudden parents trying to give their daughter the support and security that their parents failed to give them.
Life Unexpected has the complications of the usual CW evening soap opera fare, like "One Tree Hill" (with which the show shares a cross-over episode) and "Gossip Girl," but without the sexual recklessness and salacious storylines. Think "Gilmore Girls" without the eccentric personalities and kooky humor, but with the funky charm of a Portland, Oregon setting. This attempt at maturity within its youth-skewing demographic made it a more involving series than for adults and the CW gave the struggling a show a second season to find an audience, but no luck. Which is too bad. For all the lessons learned in their fumbling attempts to grow up, it was more interesting (at least for this adult male) than the teen soaps that otherwise define the channel's weekday schedule. But at least the creators had enough of a heads up to offer a quick little coda that wraps up the arcs in a neat little cliché of happy endings.
26 episodes on six discs in a double-wide keepcase with hinged trays with a pair of genial but conventional featurettes ("Life in Portland: The Making of Life Unexpected" and "Lux, Cate, Baze, Ryan & Math: The Casting of Life Unexpected"), a gag reel and a booklet episode guide.
More on Minder, Lark Rise to Candleford and more TV on DVD at MSN Videodrone