Friday Night Lights: The Fifth And Final Season (Universal)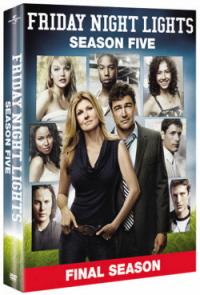 After five seasons of low ratings, passionate fans and some of the best storytelling on TV (with a boost from DirecTV, which saved the show from cancellation), "Friday Night Lights" left viewers with the same dignity of character that defined the show at its best, and a finale that finally brought Coach Taylor a sense of perspective about his own life, responsibilities and choices outside of the great game of football.
Season Five largely focuses on new class of student characters while the familiar adult faces—Kyle Chandler as Coach Taylor, Connie Britton as his passionately involved educator wife Tami (once school principal of West Dillon High School, now a guidance counselor for the struggling East Dillon) and Brad Leland as super-booster Buddy Garrity—ground the show in the community of the small Texas town of Dillon, where football is king and pretty much everything else sucks.
The show's greatest hurdle was convincing viewers that it was not a sport drama, it was a drama about people whose lives were—for better and for worse—defined by sports. And that's what the show did so well, and not just in triumph or defeat. It illustrated how team sports can encourage students, teach them leadership and life skills and give them a sense of accomplishment, and conversely how defining oneself so narrowly leaves so many former football heroes struggling for identity and careers long after their glory days are over. It also told stories of students struggling to deal with broken families, absent fathers and failed role models and much of the show's satisfaction comes from characters—adults and students both—who step up to take responsibility for themselves and others.