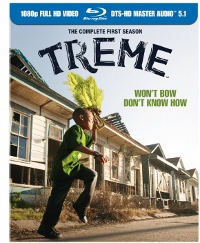 "Treme: The Complete First Season" (HBO)
David Simon followed up "The Wire" with this beautifully textured series set in New Orleans in the aftermath of Hurricane Katrina, as the locals tried to pick up their lives and careers in the face of the devastation and damage, the exodus from homes left unlivable by water damage and mold, and the frustrations of bureaucratic tangles, government failures and overloaded demand on private contractors.
But don't think this is a documentary. The plight of the citizens in New Orleans is illustrated through the experiences of the characters (most fictional, some real) that make up the sprawling community created by Simon and co-producer/writer Eric Overmyer. And if it seems like we're getting lectures now and then from some of the more outspoken characters, such as John Goodman's novelist and literature professor Creighton Bernette or Melissa Leo's bulldog of an attorney Toni Bernette or even Steve Zahn's community character and goofball activist Davis McAlary, it's out of frustration, anger, loss and a feeling of helplessness against a juggernaut of apathy.