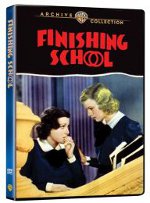 Have you heard of Wanda Tuchok, a prolific screenwriter for two decades (beginning in the golden age of the late silent era) who also directed a film or two? I hadn't before I saw this little ditty from the Warner Archive starring Frances Dee as the good girl daughter of Billie Burke, a spoiled, status-conscious socialite who enrolls her in an expensive finishing school where rules are made to be broken as long as you don't get caught. Mommy dearest is on the same wavelength as headmistress Beulah Bondi: it's not a matter of behavior but appearance and this school teaches nothing but surface appearances and attitude, from empty social rituals to appalling displays of class arrogance.
Dee, whose moral code also makes her a stalwart friend (she won't rat on her fellow students, even when she takes the rap for their flagrant rule-breaking), brings shame upon the institution for dating a hospital intern (Bruce Cabot) who supports himself by working as a waiter in a New York City hotel (how below her station!). So while the rest of the girls (led by a tartly entertaining Ginger Rogers) raise hell in wild parties on the weekends, she's confined to barracks, so to speak, to ponder her social missteps.
The film feels like it was developed as a saucy comedy for the pre-code era worked over to meet the new requirements of the Production Code. Racy situations go nowhere and the boozing and sexual laxity of films just a year earlier is more suggested than shown: a case of plausible deniability for the studio, which seems to have simply chopped out pieces of the script to stay within the bounds of decency (a subplot involving the school nurse and some sinister threat she poses just evaporates). The film lurches from scene to scene, but for all of that it's a bouncy thing with a snappy personality. Dee provides a cute wholesomeness as a heroine who is a moral paragon but no prude and Rogers is all sassy, brassy and street-smart as her fun-loving roommate named "Pony" (one wonders if there  was a subtext to that name in a pre-code incarnation; here, she just likes to ride horses).