The titles keep pouring out from the most prolific—and, to date, the most consistently high-quality—MOD (that's manufacture-on-deman​d) line of DVD-R releases. The Warner Archive line is now celebrating its second anniversary with a deal: hundreds of discs, generally priced at $19.95 (plus shipping) are being priced down to "5 for $50." Click here for a list of titles.
In celebration of the second anniversary, here's a survey of the titles I've been looking at over the past few weeks.
The Two Mrs. Carrolls (1947)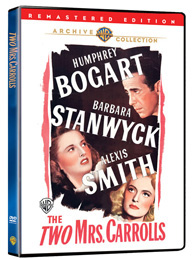 Debuting on DVD in a "Remastered Edition" is the sole onscreen pairing of Humphrey Bogart and Barbara Stanwyck. He's a passionate painter whose passions carry over to what we discover are short-lived romances. She's swept up by his artistic passion and emotional intensity when they meet on his painting trip to Scotland, until she discovers he's married. A temporary condition, it turns out, for his (unseen) wife is an invalid. At least that's what he tells her before making her the second Mrs. Carroll.
This is Bogart as the tormented artist with a psychotic edge and the film reminds us with angels of death on the canvases and a soundtrack punctuated with ominous echoes, peels of bells that build to a pounding pitch and sudden storms that toss timely thunderclaps into the drama. Bogart carried that paranoid expression, without the passionate intensity of his runaway romances, to his Oscar-nominated performance in "The Caine Mutiny." Stanwyck is his match, full of life and completely supportive of his muse, unable to suspect her husband until faced (indirectly) with the darkness of his psyche. Alexis Smith, never one of my favorite actresses, is perfectly cast as the imperious society beauty who decides to seduce the artist from his wife out of arrogance and, presumably, boredom. This rural village, far from the society life of London, is a bit dull, after all. And Anita Sharp-Bolster adds acerbic grace notes as a peevish maid who can't utter a sentence without dropping some barbed comment.
While not one of the best films of either of the stars—the script (based on a stage play) treads familiar ground and Peter Godfrey's direction is long on dramatic gestures and short on suspense and tension—it is a handsomely mounted and nicely acted piece, especially when the two Hollywood greats share the screen. And Bogart manages to humanize his psychosis and his character in his gentle way with his preternaturally sophisticated daughter (Ann Carter) and his commitment to the twisted logic of his muse. This "remastered" edition shows a little wear in opening and closing credits but looks strong and sharp through the body of the film.
Available at the Warner Archive website here.
Reviews of Finishing School and Two Weeks in Another Town and more at MSN Videodrone here