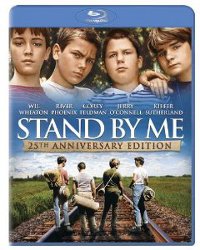 "Stand By Me" (Sony)
In the interests of full disclosure, let me confess that this film marked my film debut. Look closely in the front row of the grandstand in the pie eating contest. That's me, next to the old guys in the red fezzes with antlers. Yes, I was an extra in Stand By Me, which also marked my final big screen appearance. Ah well, easy come, easy go. Still, I was on the set for five days over a college summer break, watching the whole apparatus get put together, and I am visible in a couple of shots in the finished film And now, with the Blu-ray debut, I can make myself out a little clearer.
Okay, maybe I'm not particularly objective about this film, but it is pretty terrific, a Bradbury-esque story of an adolescent adventure one summer and one of the finest Stephen King adaptations ever (it's based on his short story "The Body"). The story is an adolescent odyssey of four friends (played by Wil Wheaton, River Phoenix, Corey Feldman, and a tubby young Jerry O'Connell) who hike out to see a corpse they've heard lays along the railroad tracks, but it's really about the last summer of innocence and the bonds of friendship and loyalty.