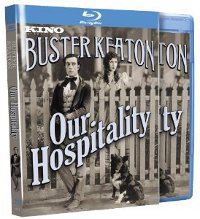 Our Hospitality (Kino Lorber)
Buster Keaton's second feature film as a director is also his first genuine masterpiece. While it opens in the darkness of widowed mother fleeing her rural shack to save her infant from a Hatfields and McCoys-like feud, the comic sun comes out when we return years later to find that infant grown into the gentle Keaton, a New York City slicker traveling south (on a deliriously surreal train engineered by Keaton's father Joe) to receive his inheritance. He falls in love with a pretty fellow passenger (Natalie Talmadge) who happens to be the daughter of the rival clan and the generations-old grudge heats up all over again, but Southern hospitality forbids the feuding family from harming him as long as he's a guest in their home. Buster spins hilarious gags from his desperate attempts to prolong his stay (and to sneak out unobserved) and builds to a thrilling climax and an impressive stunt involving mighty waterfall, a damsel in distress and a fearless rescue.
The film arrives in a new DVD "Ultimate Edition" and debuts on Blu-ray. Both feature newly remastered version of the film with two musical scores (an original orchestral score composed and conducted by the great Carl Davis and a compilation score by Donald Hunsberger) and supplements. There's a new 26-minute documentary on the making of the film, a 1926 short Fatty Arbuckle comedy "The Iron Mule" (featuring the same train from "Our Hospitality") and most curiously an alternate 49-minute cut of the film (titled simply "Hospitality"). This version is pretty beat up and included largely for historical value (explained in the introduction to the film). Film historian Stuart Galbraith IV offers his take on the film, the restoration and the supplements at DVD Talk.
More on Scary Movie 4 and a pair of budget B-movie double features at MSN Videodrone